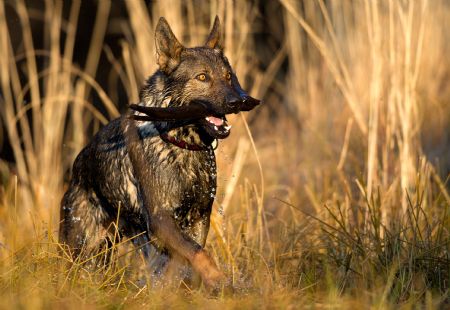 German Shepherds are known as the "Dog for all men". They are the ultimate allround canine companion. Here at Haveloc Kennels we are a specialised, family owned business since 1984, dedicated to breeding quality working dogs and loving family pets. We have a reputation for breeding healthy dogs with stable temperaments.
We follow a stringent breeding programme and all of our breeding stock are hip and elbow x-rayed, DNA profiled, and tested for Degenerative Myelopathy in an effort to produce healthy puppies. All our puppies come with their 1st Vaccination, Microchipped, have been wormed multiple times, vet checked and a Certificate of Pedigree showing full parentage. We specialise in helping you choose the most appropriate puppy for your requirements through testing of drives and environemental responces. We also provide life long after sales help and advice, always remember we are only a phone call away.
Our dogs are available for viewing and visitors are welcome. Just contact us to arrange a time.
Interstate and international enquiries welcome.
Contact Details
Glynis Hendricks
Rockhampton, QLD, Australia
Phone : 0457039941
Email :
[email protected]
139497 Visitors